Green Room is a 2015 horror film starring Anton Yelchin, Imogen Poots and none other than Sir Patrick Stewart (yes you read that right!)
Directed and written by Jeremy Saulnier, Green Room follows a punk band running low on money and morale. After being offered a good amount of much needed money to perform at a neo-Nazi dive bar, as you can imagine, things soon turn for the worst.
As I've mentioned many times before – modern horror films usually fall flat for me; they tend to be stereotypical, full of jump scares and tons of plot holes. But the premise for this horror film definitely grabbed my attention. For once, a horror film wasn't just about a haunted house, a possessed doll or a supernatural entity. Instead the film presents us with a story line that is interesting, unique, yet not unrealistic. Neo-Nazi's unfortunately do exist even today, and without having to set up anything, the audience is already on edge, thinking of all the possibilities that could happen.
The band – the 'Ain't Rights', made up of Pat, Sam, Reece and Tiger, are traveling (and living) in their van across the Pacific Northwest in America. After meeting up with a local radio artist and punk enthusiast Tad in Oregon, he sorts out a gig for the band outside Portland in the woods, thanks to his cousin Daniel who is a member of this Neo-Nazi skinhead organisation/bar.
The band is obviously a little reluctant to be playing at the neo-Nazi bar, but needing the money, they decide to go ahead with it. They open with a Dead Kennedys cover 'Nazi Punks Fuck Off' and unsurprisingly get heckled, bottles thrown at them, and spat at. However with their original songs, they manage to win the audience over, and get ready to grab their items and leave.
That is until – they accidentally see something they shouldn't have. And now the Neo-Nazi's wont let them leave without a fight, and the band barricades themselves in the green room, refusing to come out until the police are called.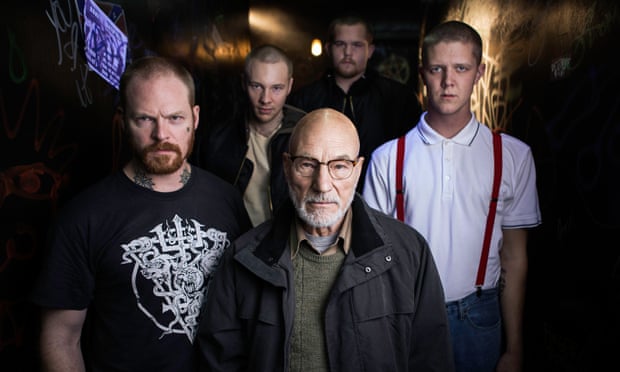 Eventually – the 'boss' Darcy, played by Sir Patrick Stewart, comes to sort out the situation, and eventually things progress more and more until it seems there is no way out alive for the band.
What I loved most about Green Room was how realistic everything was. The members of the band were played perfectly, the dynamic between them, the friendship and the personality types of each of them. Some were scared and panicked, and some were scared and brave. The gradual escalation of events was incredibly realistic and enabled me to feel more and more connected to the characters, and more and more frightened by what was happening to them and the situation they were in.
Green Room was brilliantly frightening in a perfectly subtle way. The neo-Nazi's were scary but not in an un-human way or a way in which it would be hard to actually imagine happening in real life. The film also used the theme of the claustrophobic atmosphere incredibly well, giving it to the audience in layers. The remote placement of the setting, the segregated and excluded nature of the neo-Nazi's themselves, and of course the green room that the band have barricaded themselves in creates an incredibly oppressive atmosphere that makes the film even more tense and frightening. 
Green Room is one of the best horror films I've seen in a while. It's thrilling, frightening, tense and interesting. It keeps you on your toes, constantly wondering what else could happen, and has some of the best, realistic and most horrific gore I've ever seen in a film.
The performances are brilliant by all of the actors and is definitely worth watching for all horror fans, thriller fans, and movie fans in general.
Psycho Cinderella's Rating 5/5 ❤